Cranes and Construction School Visit
The Language Academy of Sacramento, a K-8 Spanish-English bilingual charter school is next door to the Aggie Square site. All year, students have had a front row seat to the daily sights and sounds of the construction activity.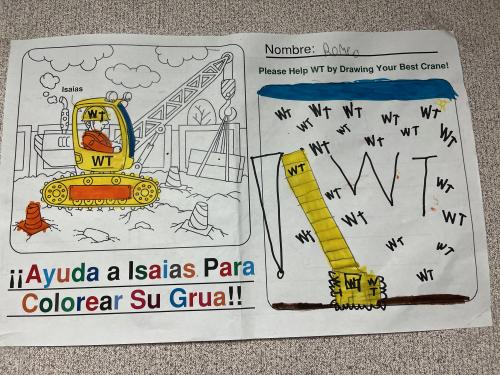 Whiting-Turner, or WT, the general contractor for the first three buildings and Wexford Science + Technology, the Aggie Square developer were excited to receive an invitation to deliver an educational program about the work taking place on the other side of the fence.
On Friday June 23, WT's Aggie Square team met Mrs. Penelope's eighteen 3rd grade students to share the inner-workings of construction operations of Parking Structure 6 (PS6), the 1,500 stall, six-level parking garage going up next to the school. After introductions, the WT team led by Project Executive Shawn Cooper demonstrated PS6's pre-cast concrete construction using Legos, described the workings of the construction crane and discussed the teamwork required to lift and place the huge pieces.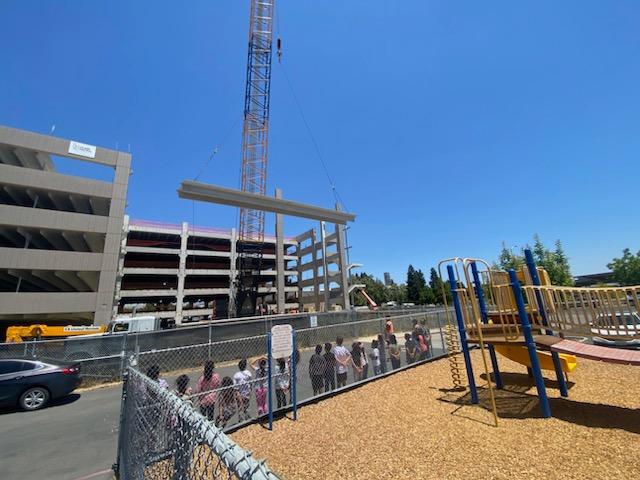 Isaiah Kraatz, PS6's superintendent, is a native Spanish speaker and was able to present and answer students' questions in Spanish. Student questions ranged from how the structure was built to the different equipment in use on-site and its purpose. There were even questions regarding future employment with WT! The WT team prepared a short homework assignment asking students to draw and color a picture of the crane.
The classroom presentation was followed by a short walk to the parking lot adjacent to PS6 for a big surprise. WT organized a real-life demonstration of the construction methods used by Clark-Pacific, the precast concrete subcontractor from Woodland. Once the class was assembled, WT signaled to the crane operator and blow horns blared. Next, a 310-ton Manitowoc crawler crane with a 300-foot boom arm lifted the 60-foot, 50,000 pound, pre-cast concrete piece off the flatbed truck and flew it into its position on the 6th floor of the structure.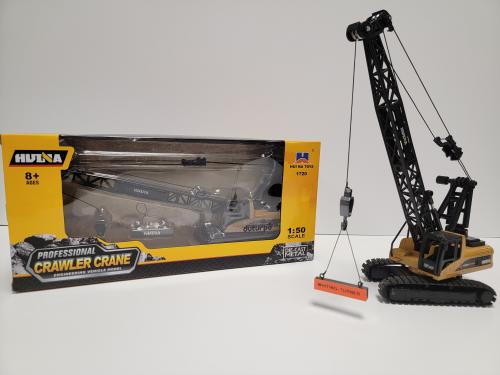 The following week, WT returned to the school to collect the homework assignment and gifted a die-cast crawler crane model to each student to remind them of the work they witnessed all year and the special crane demonstration.
WT and Wexford are very grateful for the opportunity to develop a relationship with the Language Academy of Sacramento and look forward to more opportunities to meet with students, promote science, technology, engineering and math, or STEM, education to the future builders of America.
Primary Category